After swimming for 15 years, Ryan King says he doesn't get flustered often. Being in the pool has become an important part of his life.
So when King stepped out of the locker room and walked towards center stage earlier this month in Omaha, Neb. inside the CHI Health Center Arena (which is home of the Creighton University men's basketball team), he was nervous, and one could hardly fault him for being so. King was attempting to qualify to compete for the United States in swimming at the 2020 Summer Olympics in Tokyo in front of hundreds of people, and in an arena that could easily seat near 20,000 in a normal year.
King looked up and surveyed the arena, taken aback by the jumbotron, the bright, blue pool at center stage, surrounded by the best talent in the nation. The U.S. Olympic Team Trials are considered the biggest stage for swimmers across the nation, and some argue the pressure at the trials trumps that of which swimmers face at the Olympics due to the trials' competitiveness.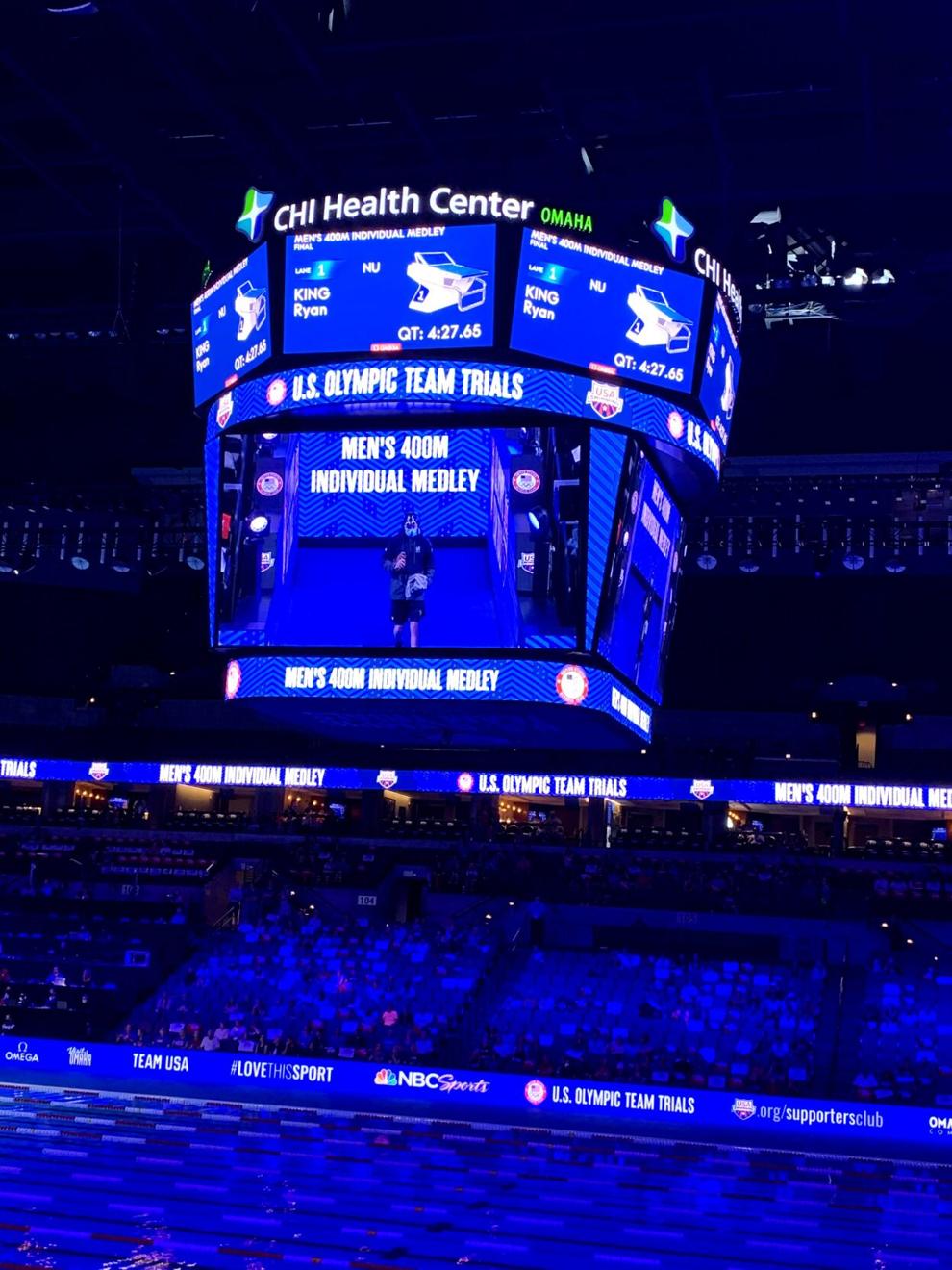 "It was nerve wracking walking up on and seeing my face on the big screen on the jumbotron, and nerve wracking having all those eyes on you," he said in an interview. "But I trust in my training and trust in my coaches and I had lots of fun with it. That's the most important part."
Swimming in the 400 individual medley, King swam a 4:27.65, which placed him fifth in his wave, but since the meet is split into two waves (the second wave is this week), the time pushed King into the 30's between both waves (the swimmers with the two best times in the event qualified for the Olympic team: Chase Kalisz and Jay Litherland, both Olympians during the 2016 Summer Olympics in Rio De Janeiro, placed first and second, respectively).
"It was a dream," King said of swimming at the Olympic Team Trials. "It's something you dream of as a kid when you go to a meet like that at a basketball arena and all the focus is on the pool, basically where Olympians are created."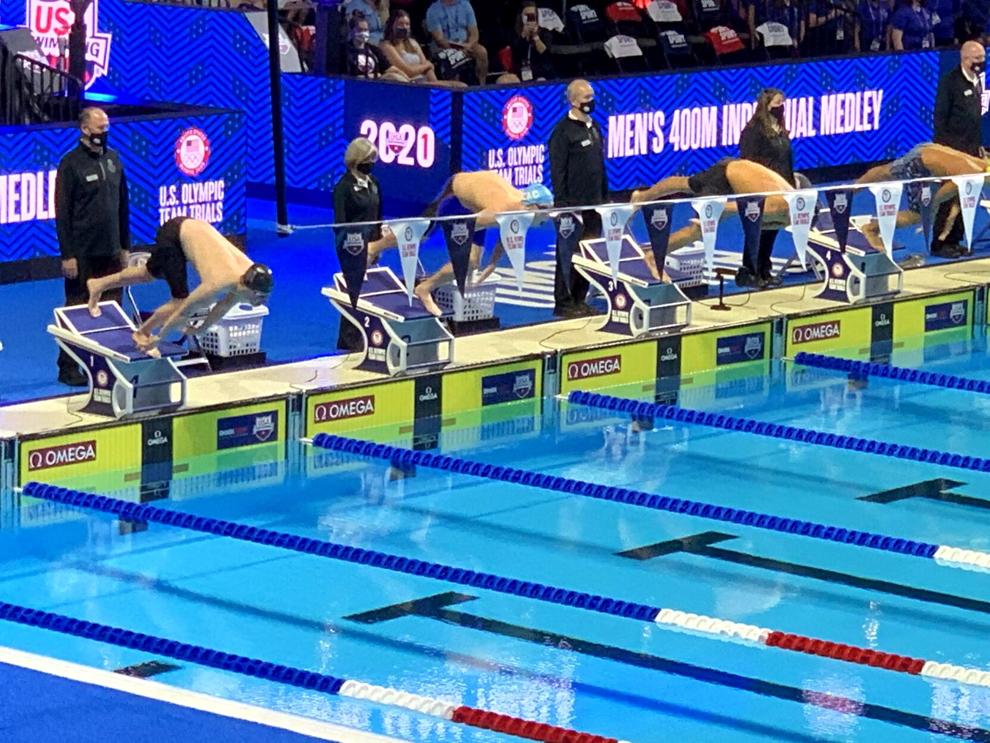 Though nervous at first, King's assistant coaches told Katie Robinson, director of Swimming and Diving at Northwestern University, where King just completed his sophomore campaign, that he swam with confidence, and looked the most confident he's ever been.
"Another thing I've seen develop in him now is his confidence level, and him knowing that he belongs at this high level," Robinson said. "He's started to realize that. He was quite modest in his idea of himself as a swimmer, and during the last couple weeks, I've seen his confidence really grow."
With King swimming sure of himself, even with the finish, participation at the trials and just hearing this line — potential Olympian at the Tokyo Games for the U.S. Olympic swimming team — was enough to realize the kind of doors an event like that opens. "It's great motivation to take my training to the next level," he said.
Fittingly, after the trials, he went back to campus, finished some school finals, and hung out with friends and family.
"It's wild to think that I was 30 people away from traveling to Tokyo and going to the Olympics," King said. "It's pretty crazy. I never thought I'd go this far in the sport, but it's awesome to see all this hard work coming together."
A standout swimmer at Montrose High School, where he was a 4A state champion in 2018 in the 500 free and at one point named the No. 1 swimmer in Colorado by collegeswimming.com, which ranks potential college recruits, his collegiate potential was never really questioned, considering his recruitment status. King chose Northwestern over Princeton, Yale and Indiana, and Robinson said the Northwestern program leaders had an eye on him, due to him being a "high-achieving student-athlete" with an "excellent attitude" and "love for swimming." (King graduated from MHS with a 4.0 GPA.)
So after a sophomore campaign where he qualified for the finals in the 500 free and 400 IM at the Big Ten Championships, King had a shot to qualify for the trials during a qualifying run at a meet in Illinois two weeks prior.
The stage was set, and King knew it. So did his teammates, including sophomore Ben Forbes, who's also King's roommate.
With King in the water, and swimming well, it became clear — King was on pace to qualify for the nation's prestigious swimming event.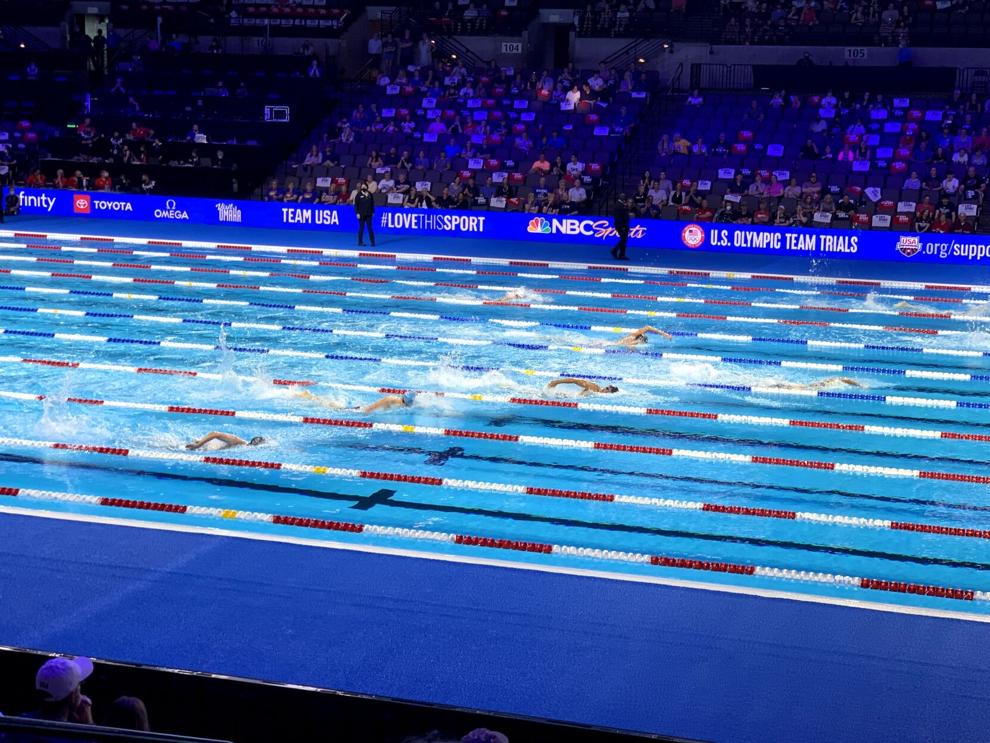 "I lost my voice that day," said Forbes of watching King's performance. "It was so great to see. We were running up and down the pull deck during his race, letting him know that he was on pace to hit the cut. He flipped at the last turn, and we let him know that he had a really good shot, so he couldn't back off at all.
"Everyone was waving and throwing their arms, letting him know he was about to do this."
As King finished and hit the wall in what Forbes said was a "loud, rockin'" atmosphere, King turned around, looked up at the clock, and realized he had just made the cut, finishing his run at 4:25.83.
King, sporting a wide smile, slapped the water and celebrated, knowing he accomplished one of his largest goals.
"It was a celebration worthy of the moment," Forbes said. "... that was a big step for him. We all knew he had it in him and it was an awesome thing to see."
King's hard work, like with any determined athlete, is by design. King is up before the sun creeps through his window blinds, out the door and on his way to the practice facility, for 6 a.m. practice six days a week. The team also has a two-hour practice in the afternoon.
He's in the pool at least 20 hours a week. He says it's a grind, but he's used to it now — he's been swimming competitively since he was five years old — and isn't satisfied with just getting better, not in the slightest.
"I have never seen him shy away from hard work," Robinson said. "In fact, he takes our practices and makes them even harder for himself. And he does it not just to get through it, but does it and pushes himself to a limit that is extremely impressive to see as a coach."
During one practice, meant to be more relaxed, the team was playing a trivia game. If a team member answered a question correctly, they didn't have to swim a 50 at full speed. Answer a question wrong, they had to swim that same distance as fast as they could.
King, along with teammate Ben Miller, started to answer some questions. The pair, too, answered those questions correctly.
So they took it easy, right? Not quite. Once King and Miller learned they were right with their responses, they darted for the water, swimming their 50s at full speed, every time. They didn't have to swim it so fast – Robinson told the pair as much. But King and Miller just laughed and kept at it, with full force.
By the time practice finished, they both swam 20 fast 50s, about two-thirds more than everyone else on the team.
"He took it upon himself to do it all fast, and he was there to get better, and it paid off, "said King's teammate and roommate Ben Forbes. "He works as hard as I've seen anyone work."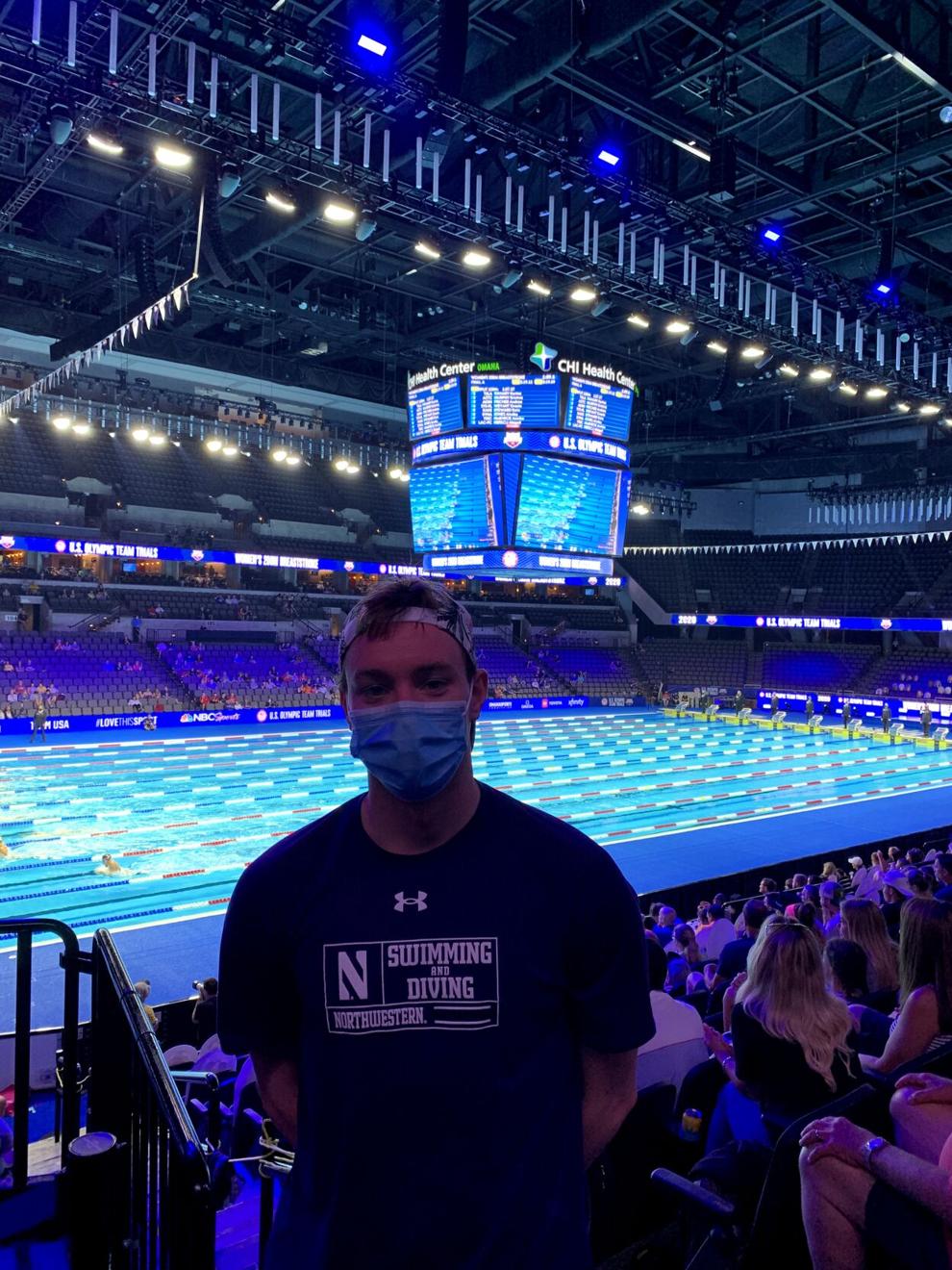 King's times in events like the 500 free and 400 individual medley dropped in his freshman campaign, and he posted a season-best time at the Big 10 Championships last year in the 400 IM. King makes a conscious effort to pay attention to technical details in practice, and he's getting stronger, Robinson said, taking care of his body and working with the program's strength and conditioning coach on additional core exercise and conditioning elements.
He also swims the 1650-yard free (the mile), which Robinson says is where he had his best performance this past season (Forbes, too, lauded King's ability as a long-distance swimmer).
At practice, and outside of the water, he's supportive of his teammates, the first to step up to get the team rallied when struggles persist, Robinson says.
Forbes describes King as a "great, positive influence" who's there to pick you up on an off day. And that's for both the men's and women's programs at Northwestern, since both train together.
And as roommates, the pair get along, despite King showing absolutely no mercy when the two play Super Smash Bros. "He has no mercy," Forbes says, laughing. "He'll have no lives lost and I'll have nine. But he's easy to hangout with and is a fun teammate... he's really a person that everyone on the team can connect with."
"You know how they say leaders built great leaders? I feel like he's really done that at Northwestern, and he's helped build people like that around him that are fearless in their training," Robinson said.
King has his junior and senior seasons as a Wildcat to make some extra noise. He's already moved up in rank in the Big 10 Conference, and Robinson says King can work himself into the A final at Big 10 Swimming Championships, opening up a chance to compete in the NCAA Men's Swimming and Diving Championships.
King said he might train an extra year for an Olympic run, but could easily enjoy the sport as a hobby post-college. But to finish his collegiate career at Northwestern, he wants to focus on what makes his experience at the university fun — enjoying the journey with teammates and coaches, while excelling in his studies (King is an economics major with a minor in computer science).
"A lot of it is keeping it fun, practices with my teammates, messing around with them, pushing each other, talking trash to each other," King said of his experience so far at Northwestern. "That's motivation on your rough days when you're having a bad morning and they tell you to do your best. Without them, I wouldn't be where I am now.
"And with the coaches, its support with those early mornings, traveling to different meets, giving us different practices and keeping it light and having fun with it.
"... it's about learning how to be a great teammate. There's so many great people here and there's so much you can learn from them along the way. Taking as much as you can through your experiences, listening to people and learning how you can better the world through that."
Forbes, like Robinson, believes King's final few years could be special.
"Coming out of Montrose, he was quick, but these last few years he's been truly phenomenal, bringing in points for the Wildcats," Forbes said. "He has the opportunity and the talent to be really great."
Josue Perez is a staff writer for the Montrose Daily Press