The day after Montrose lost the state championship game last spring, Fletcher Cheezum was back in the gym. Rest wasn't on his mind. He wanted to get some shots up. He was frustrated with his two-point performance against eventual champion Mead.
In his mind, that performance wasn't remotely close to good enough.
"That just pissed me off," Fletcher Cheezum said of his play on March 21, 2021, when Montrose played Mead for the 4A state title. "It's so rare to get to a state championship game and for me not to show up the best that I could have, that was just fuel to the fire for me."
He was 1-for-5 in that title game, his only make being a two-pointer. He was 0-for-1 from deep, marking just the fourth time he didn't make at least one three in 19 games.
So on that day he returned to the gym, bypassing a chance to rest, he worked on any type of shot — catch and shoot, transition, stationary. His goal: 200 to 300 makes before he could call it a day.
"I didn't want to take a day off," Cheezum said, "especially with the way I played in that state championship game. I've wanted to play better since then. It motivates me to be great."
He focused on making 20 3's at each spot — the corners, wings and top of the key. He ran from corner to corner and wing to wing in some sets. If he didn't like the way his shot was feeling, he would return later that night to keep shooting.
"I never want to leave the gym on a bad note," he said.
During camp this past summer at Colorado Mesa University, the work Cheezum had put in didn't immediately translate. He was shooting well, but not at the rate he wanted.
"At that point, I just decided I'm going to forget about the shooting machine and focus on getting game shots," Cheezum said.
The shooting machine, a net around the basket which rebounds the ball for a player and returns it, was forcing Cheezum to shoot the ball higher, and affected the arc of his shot. He had been using the machine last year and this past summer, but then pivoted to rebounding for himself or having a teammate or parent rebound for him hoping for different results.
He continued to shoot at least 400 shots a day, still targeting at least 200 makes with his new routine. Without the machine, it allowed him to not worry whether the ball had to go over the net. He was solely focused on his form.
Eventually, confidence in his shot grew. The feeling became much more natural.
"I was just trying to perfect my shot as much as I could," Cheezum said. "It's obviously helped this year."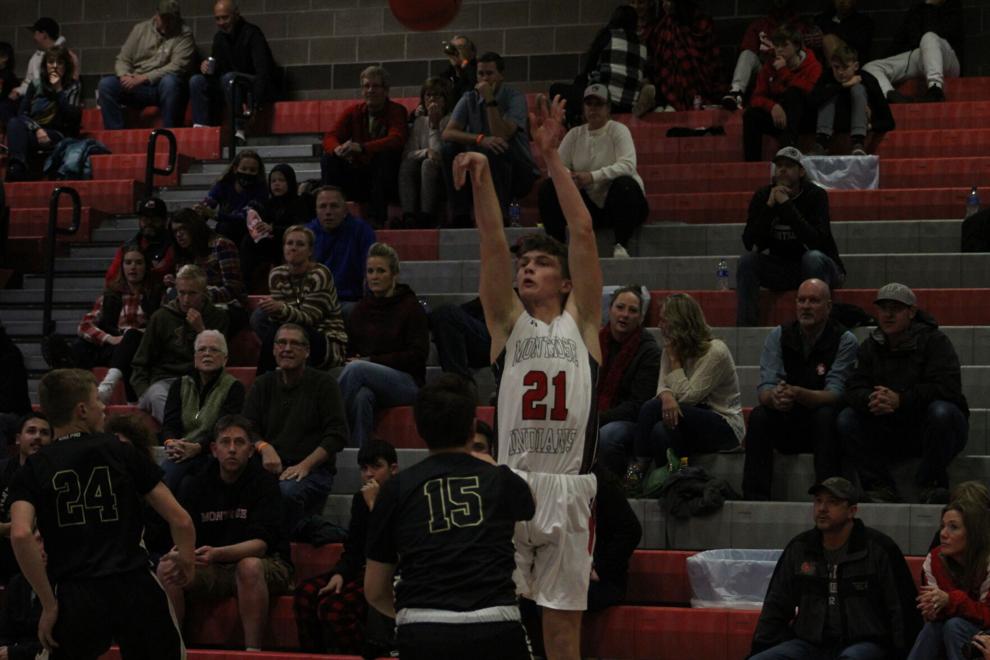 Through 13 games this season, Cheezum ranks fourth in 4A with 35 three-pointers made and second in three-point shooting percentage (51%) among qualified leaders. In all of Colorado, his 35 triples rank eighth.
He's converted at least two triples in all but two games this season. In five of those games, he's made four or more three-pointers. He had only three similar performances in 19 games last season. And he's averaging 13.2 points per game, up from last year's 9.8.
He's on pace to eclipse his three-point percentage (37%) from a season ago. Last Saturday, during a game against Pueblo West, Cheezum was 6-for-6 from deep in the first half.
"I'm kind of riding him all the time when he misses a shot because I don't expect him to miss," Montrose coach Ryan Voehringer said with a grin. "He likes the pressure and intensity of the game and he wants that shot. He's come a long way since his freshman year."
Cheezum believes his ascent as a shooter has helped increase opportunities for the rest of the offense. If opponents decide to faceguard him, it opens up lanes for Luke Hutto, Trey Reese and Ashden Oberg. If not, Hutto or Reese can kick it out to him for a wide-open look on the perimeter.
As a team, Montrose is shooting 53% from the field. Four of the five starters — Hutto, Reese, Oberg and Cheezum — have field goal percentages above 50%. The fifth, Cody Proctor, isn't far behind, shooting at a 47% clip.
"(Cheezum's presence) from deep has definitely helped," Oberg said. "It helps Luke, because teams can't double-team him, and they can't leave open spots in zones. It's really helped other guys get open shots."
Montrose is averaging 65.8 points per game, nearly 10 points higher than their average last winter. The team hasn't taken a drastically different offensive approach, Oberg said. They're just feeding the ball to whoever's having the best shooting night.
More often than not, that's Cheezum.
"I just have so much more confidence," Cheezum said. "I had a little bit of confidence last year, but I've learned confidence is key. I believe every single shot is going in."
In practice, Cheezum focuses on getting his shot off faster. That's because he's aware wide open looks likely will be hard to come by during the playoffs and he wants to consistently convert contested threes. Knocking a triple down after coming off a screen is part of his focus, too.
He hasn't set specific goals for himself, though he takes pride in being Montrose's best three-point threat.
"Luke's a slasher, Trey's a passer, Ashden's down low. I focus on three-point shooting because that's what I know what our team needs me to do for us to succeed," Cheezum said.
The sour taste from last season's championship game still sits with Cheezum. He's hoping he can shoot at the same clip as the season progresses so Montrose can return to the title game.
"If we need a three-point shot, there's nobody in the state I would take over him," Voehringer said. "He's shooting it with confidence. If you miss one, you move on to the next one and he's doing a good job of that."
Josue Perez is a staff writer for the Montrose Daily Press