Montrose High School's football team woke up Monday likely feeling jubilated.
A weekend to rest the legs following an impressive Friday night 28-21 win last week over 4A's No. 1 ranked team, Palmer Ridge, was a nice reward.
Then, the Indians were rewarded some more.
On Monday, the Colorado High School Activities Association's weekly rankings revealed a new No. 1 in 4A football: Montrose.
Among the players and coaches, there was joy and pride, knowing they earned their way to such recognition.
But there was pause, too.
"It was a pretty good feeling because we worked so hard for it," said Ethan Hartman of Montrose's No. 1 ranking. "To be honest, I don't really like being No. 1. I like pushing to be the best. But it puts a target on our back that I think we're ready to hang with."
"It's a good problem to have. It means you have a good team," Montrose head coach Brett Mertens said. "But you've got a target on your back and I think one of the key things my coaches instilled in me when I was younger is being ranked No. 1 in the middle of the season doesn't matter. It's about trying to be ranked number one at the end of the season."
Montrose starting quarterback Gage Wareham said the team was trying to avoid the "big game hangover," but luckily, the Indians (7-0) had any and all the cures as 4A's newly minted No. 1 team guaranteed themselves at least another week in the top spot by defeating Heritage (1-6) 56-12 Friday night.
The scoring started nearly three minutes into the first quarter when Wareham found an open Hartman for a 38-yard touchdown.
On the Eagles' second drive, which started at the Montrose 42 after a botched kickoff, quarterback Zane Pavelko led a 10-play drive that was for naught after Ethan Shofler missed a field goal attempt.
After an interception by Hartman on the Eagles' ensuing possession, Torrie Eckerman's 59-yard run set Montrose up at the Heritage 17. Two plays later, Eckerman's six-yard touchdown run gave Montrose a 14-0 lead.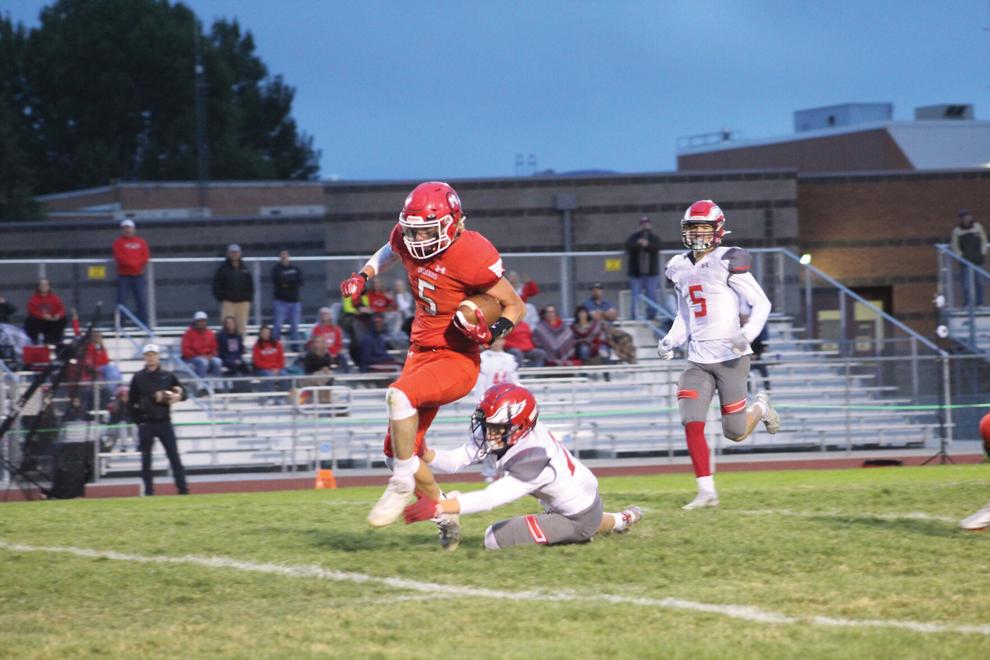 It was only then that was truly the start of Hartman's monster night. With Heritage threatening in Montrose territory, Hartman again picked off Pavelko, which eventually led to an Austin Griffin score from three yards out.
On Montrose's next drive, Hartman set up Griffin again, running for 58 yards to the Eagles' 17. Griffin's 17-yard rushing touchdown made it 28-0 with 3:56 left to play in the first half.
Hartman wasn't done there. In the third quarter, Wareham found Hartman, who was wide open down the seam, for a 35-yard touchdown.
After helping force an Eagles three-and-out, Hartman was back at it, carrying the ball 51 yards for a score and a 42-12 lead.
Altogether, Hartman compiled 223 total yards (139 rushing and unofficial), two touchdowns and scored on a two-point conversion. Oh, and he recovered an onside kick, just moments after his 51-yard touchdown run.
"It's a lot of fun," Hartman said. "I've just got some ability that my parents gave me and I've just been able to work with the team. They block for me and do all the hard work. I just get to do some of the fun stuff."
Montrose's offensive line provided more holes for Griffin to run through in the second half. He added a nine-yard touchdown in the fourth quarter and finished with 109 yards rushing (unofficial) and two touchdowns.
Griffin's brother, Blake, Gabe Miller and Tayne Ila added a combined 111 yards rushing (unofficial).
"We're doing a good job right now (offensively)," said Wareham, who completed 5-of-7 passes for 126 yards and two touchdowns in Friday's win. "We're executing the plays we need to execute and we're having fun right now. Our offensive line has been amazing every game."
Despite the score, Montrose didn't have the cleanest night. The Indians lost a pair of fumbles in the first half, making it six times in two weeks they've put the ball on the ground. They had some penalties, too, and one which allowed Pavelko to throw a 4-yard touchdown pass a play later to Terron Young.
A miscommunication in the Montrose secondary allowed Pavelko to toss his second TD, a 44-yard heave to Zach Siegler, who coasted towards the end zone. It was a blip in what was a solid night for Montrose's defense, which forced several three-and-outs and stopped Heritage on fourth down three times.
"Overall I was happy with our whole defense," Mertens said. "We didn't play our best defensive game tonight — not as well as we have in other games — but we still held them to 12."
Montrose, now 7-0 and 2-0 in league, will face another stiff test next week at Vista Ridge (5-1). They'll kick off at 1:30 p.m. on Saturday, Oct. 16.
Josue Perez is a staff writer for the Montrose Daily Press