Three goals in four games.
That's how many times Montrose High School's boys soccer team scored in their games against Grand Junction and Fruita this season, two league rivals the Indians had gone 3-1 against last spring on their way to second straight Southwestern League title.
The third of the three came in the second half of Tuesday's action against the Wildcats at MHS, when Adriel Huizar Martinez, on a free kick, kicked a near 40-yard shot that slipped through the hands of Fruita goalkeeper Luke Wender and found the back of the net.
The goal trimmed Fruita's lead, but the Wildcats' Harrison Matlock extended it, adding the team's fourth goal in the 66th minute.
By then, the Wildcats had taken the wind out of the sails for the Indians, who eventually lost 4-1.
After Montrose defeated Fruita twice last spring, the Wildcats returned the favor this fall.
"I think a lot of what's going on right now is mental," Montrose head coach Cassie Snyder said. "We've had a lot of adversity to face and a lot of changes recently and a lot of things not go our way outside of the game. We've had a number of folks quit throughout the season, which is not an excuse but is a factor. We have a lot of young guys on the field and it's hard to play a complete game when you have a lot of things going against you."
Adversity came quickly for the Indians on Tuesday when, six minutes into the game, Fruita's Nate Halberg opened the scoring with a fancy footwork goal that went past Montrose goalkeeper Iker Ayesta.
After a pair of missed opportunities for Montrose, the Wildcats' Seth Cothrun capitalized on a loose ball, pushing another past Ayesta to take a 2-0 lead into halftime.
Montrose had its first half chances, including a shot from Adriel Encarnacion that sailed past the goal post and another miss by Quincy Cooling, who attempted a header off a ball from Adriel Huizar Martinez.
Despite 23 chances across 80 minutes, and seven shots on goal, nothing materialized for an Indians offense that, outside of a 6-0 win over Grand Junction Central last week, has scored six times in six games after opening the season on a tear, outscoring opponents 23-6 in the first five contests en route to a 4-1 record.
"When I look at some of our opportunities, we just need to fire," Snyder said. "If we get into the 18 (yard box), let's take a shot instead of taking touches. I think we're trying so hard to set ourselves up in a perfect way as opposed to saying, 'hey, we got ourselves in the 18, let's shoot.'"
The Indians, at least on Tuesday, had often opted for additional passes, favoring to fit them in a corner pocket for a potential cross to Cooling or Encarnacion for a finish. Their possession stats — 2.8 and 2.6 in the first and second halves — were on par with Fruita's, though the Wildcats had a slight edge in the second half.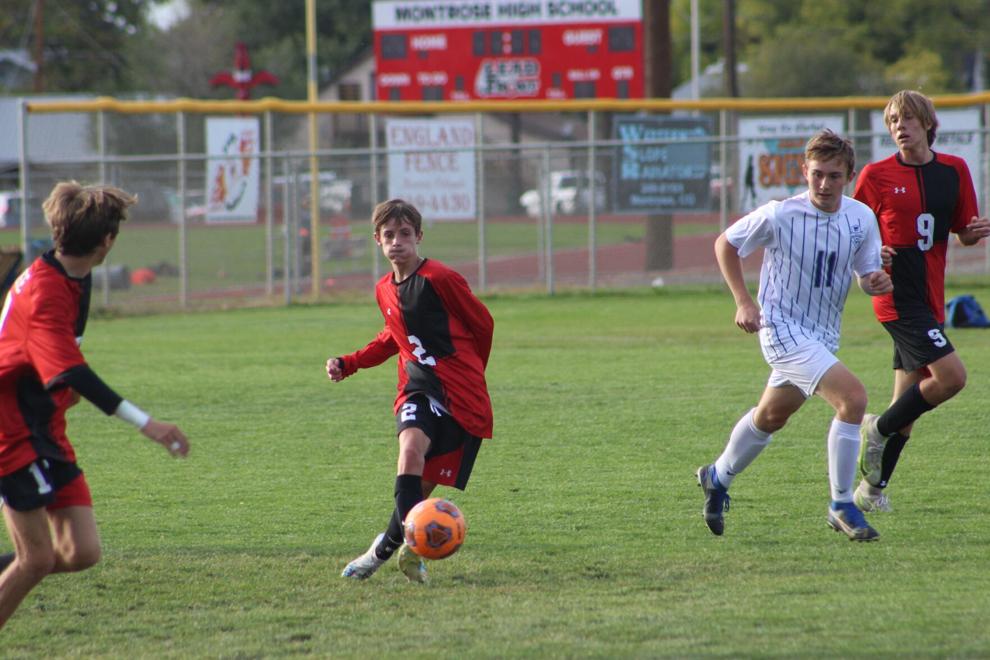 A few corner kicks sailed past Montrose strikers, though the Indians often recovered and continued their possession.
But finishes escaped Montrose. A shot from Bowden Vigil nearly gave the Indians their first score, but it bounced off the goal post, and an opportunity for Cooling was spoiled by Griffin Cunningham, who later dashed Encarnacion's near crossing pass near the goal.
"We just need to finish and be consistent in front of goal," Cooling said. "We're getting opportunities but we're just not putting it in the back of the net. Both teams (Grand Junction and Fruita) have good defenses. We just need to be consistent in front of goal."
Montrose had been working on its finishing during practices recently. It just hasn't translated to game action as of late yet.
"We had a few opportunities tonight that looked like what we're working on in practice," Cooling said. "As long as we practice more of that, I know it'll come."
The loss moves Montrose to 6-5, including 1-4 in league play, and limits their chances to win the Southwestern League title for a third straight season. With the Indians losing four of their past six games, they are now three games behind league-leading Grand Junction, which has a 4-1 SWL record, with four games left in the regular season.
Fruita and Durango are both 3-1-1 in conference action.
"We need to focus on one game at a time. League's out of the question now, so we're just trying to focus on making playoffs and maybe trying to get a home playoff game by getting in the top 16," Cooling said. "We just need to take steps to try to make the playoffs and get the best seed possible."
Montrose is scheduled to play at Durango (9-1-2) on Saturday. The Demons, who defeated Alamosa (3-6) 9-0 on Tuesday, are ranked No. 5 in 4A in CHSAA's weekly coaches poll and No. 3 in the RPI standings.
Following Tuesday's loss, Montrose dropped to No. 29 in the 4A boys soccer RPI. The top 32 teams will qualify for playoffs and the top 16 will host at least the first round.
"We're still in it," Snyder said. "We could still be in the top 16, particularly if we win the rest of our games. If we end 10-5, that's a good record.
"We're still in it and it's not over yet. All we can do is focus on the next one and improve from this, and we have to put a complete game together, and that has to be mentally. If we do that, we'll be in good shape heading into playoffs. It's not about how you start, it's about how you finish. We've had a rough go recently, but there's nothing that says we can't turn that around."
Josue Perez is a staff writer for the Montrose Daily Press