The regional bracket has been set for Region 8 in 4A girls tennis, scheduled to take place Friday at Colorado Mesa University. Montrose, Grand Junction, Durango and Grand Junction Central teams will participate in Region 8.
Cora Blowers (7-2), at No. 1 singles, is the No. 2 seed and will face Durango's Jeanette Baker (3-8). Blowers won both matchups against Baker this season, and the winner will face either Grand Junction's Emma Aubert (10-0) or Grand Junction Central's Mary Beckstead, the No. 1 and 4 seeds, respectively.
"I'll be trying to play the same game I played (against Baker)," Blowers said of the overall approach to regionals. "I'll probably play a more aggressive game to get me ready for state, serving a bit harder."
If Blowers and Aubert advance, the pair will play one another for the third time this season. Aubert, a sophomore, finished the season 10-0 as one of the best players in the Southwestern League. She hasn't lost a single game to Blowers, but then again, she hasn't lost many games to anybody — in 10 matches, she's lost just eight games in 20 sets.
"If she can control the game, she's gotcha," Blowers said. "If she can get it to where you're hitting it right back to her, she can make her shots."
It'll be a tall task for Blowers, but she said, after her last win against Baker, that her spin is at its best right now, helping her finish the season effectively with improved ball placement.
Andie Blowers (5-2) also secured the No. 2 seed, but for No. 2 singles, and will face Ellinor Davenport (4-7) of Durango. Blowers is coming off a win against Davenport in her final match of the regular season.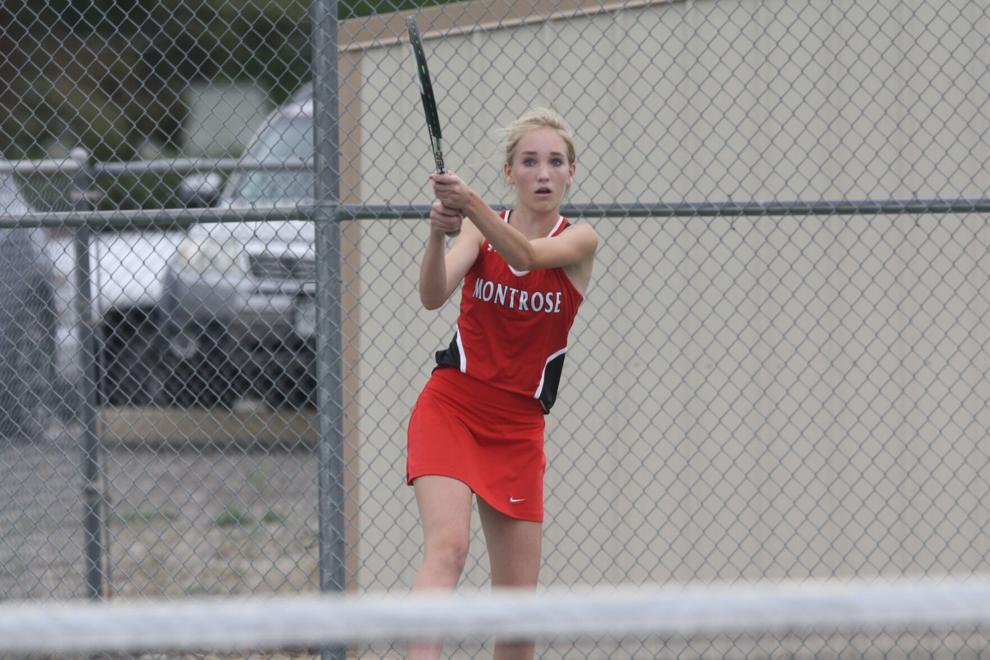 Grand Junction's Emma Thompson (9-1) is the No. 1 seed and Curtrice Hansen is the No. 4 at Mo. 2 singles. (Thompson defeated Blowers 6-4, 7-6 earlier this season.)
"I'm excited," Andie said. "Hopefully I can pull out the win (against Davenport) and I'll automatically go to state, which will be fun."
A win against Davenport would give Blowers some state tournament experience in her freshman season. Some time in quarantine a few weeks ago set her back slightly, but she focused on having her mind right while keeping the intensity at a high level during her return.
"With a week of practice between, I'll be doing good by regionals," she added.
Katy Story (1-8) rounds out Montrose's singles players, representing MHS at the 4 seed at No. 3 singles. She'll face Charlie King (8-2) of Grand Junction. Durango's Mia Boughton, the 2 seed, will play Central's Jessica Warner.
Story's record doesn't necessarily reflect the way she's played this season. She's faced players with much more experience, and as a freshman, has grown more comfortable at No. 3 singles, forcing deuces during in plenty of her games.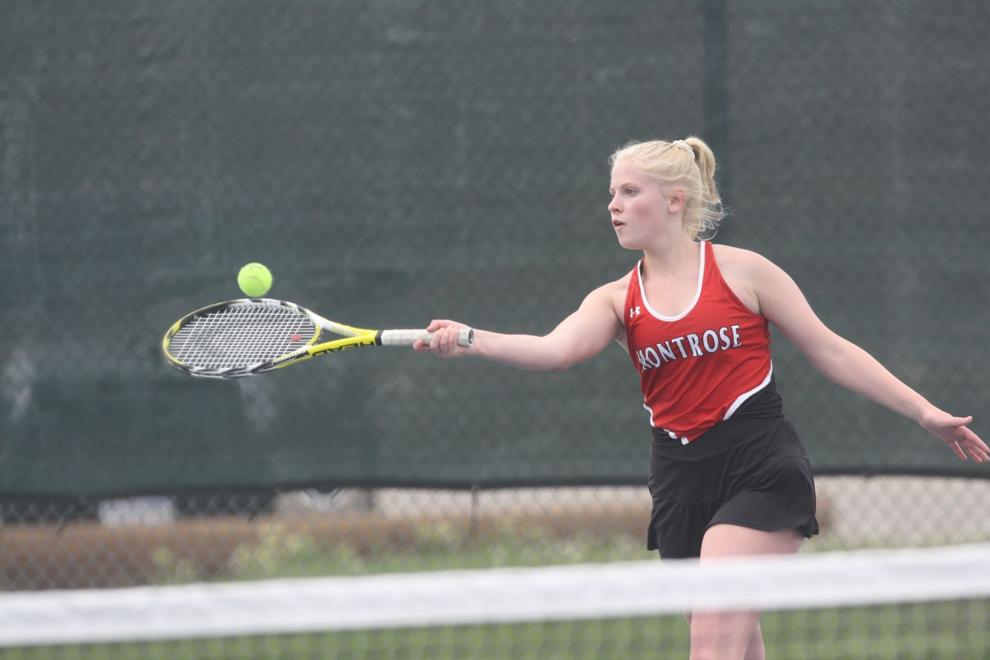 Montrose has the No. 4 seed in No. 1, 2, 3 and 4 doubles. Rhyan Neary and Melaina Yender will play at No. 1; Pragati Chaudhary and Violet Noel at No. 2; Samantha Go and Hayley Eldridge at No. 3; and Ariana Najar and Gaby Rosales at No. 4.
Eldridge will be filling in for Alyssa Oman, who has played all doubles varsity matches this season but is out of town with family.
"If they play the way they can, both of them can go to state," Montrose head girls tennis coach Jim Aragon said of Cora and Andie. "But the focus for all the girls is just hit — win or lose, the focus is to improve to the best of their ability and be happy about what they're doing. I try not to set too high of a standard that puts pressure on them, so they can feel good about what they're doing."
A first-round win for players in singles and doubles nets them an automatic entry into the state tournament (players who place first and second in each event will qualify).
All singles, and No. 1 doubles, matches will start at 8 a.m., with first-round winners in singles playing at 11 a.m. The No. 3 and 4 doubles first-round matches will start at 9:30 a.m, however, Chaudhary and Noel will start at 8 a.m.
Josue Perez is a staff writer for the Montrose Daily Press