Nicole Ann Koch is a unique, happy, adolescent teenager who seems to have the world by the tail.
She is a curious (4.03 GPA) student and often playful . . . but when it comes time to get serious, her demeanor changes. Her easy going, graceful manner disappears when asked about her approach to high school varsity wrestling. "I want to win every time I step out on the mat and I believe, I can. I don't like to lose to anyone."
Her voice was full of confidence and assurance as it echoed in the conference room at Delta High School – anyone listening understood she meant business.
She is a returning three-time state wrestling champion with one more year of eligibility . . . which could establish her as a four-time state champion. Since 1936 there have been 29 four-time Colorado champions (all in the boys divisions), and she is on track to be number 30.
"I don't think much about that, I only know what I can do and if that happens, so be it," Nicole responded.
Nicole is not over confident but understands her ability to perform well at a high level. That confidence is backed by winning seven national competitions, including the prestigious Rocky Mountain Nationals where she was voted the outstanding wrestler.
"Wrestling has been one of my greatest accomplishments and joys in this world. It has brought me many opportunities and I have been able to meet so many people. I have my parents to thank for everything and for supporting me through all I do," Nicole reflects.
Her parents, Jeff and Janna Koch (pronounced Cook) are attentive to all four of their children: Natasha, Urijah, Benjamin and of course Nicole – but one stands out above the rest.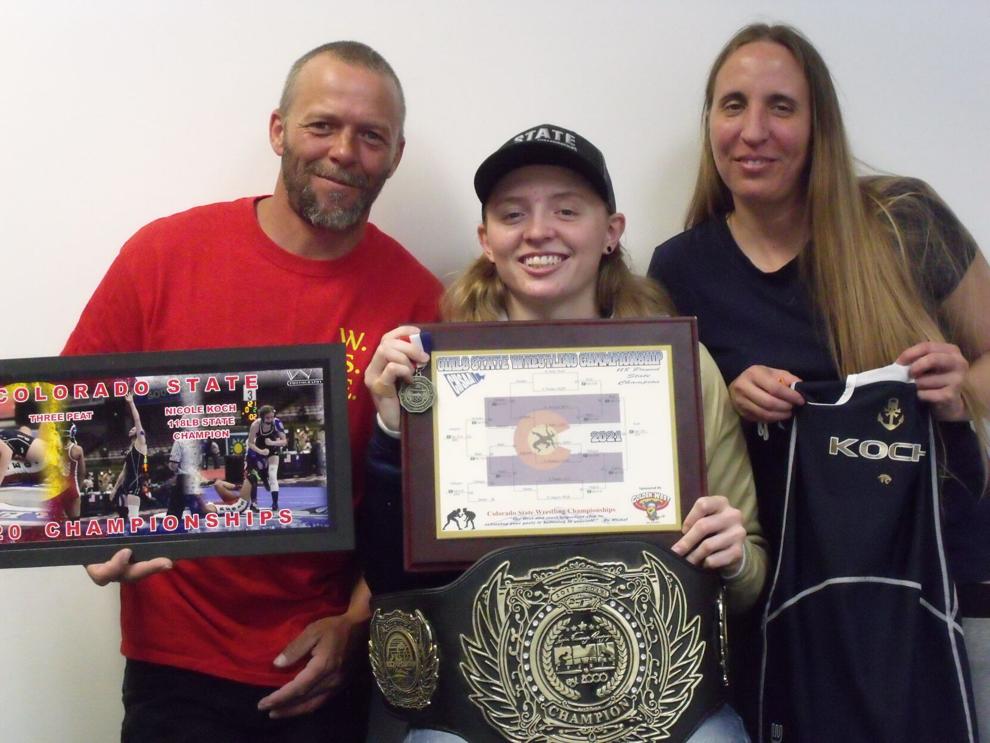 Born on Oct. 26, 2003, Nicole (also, known as Nicki) is a distinct individual who is a student at Delta High School and a varsity wrestler on a consolidated district team at Olathe High School.
It was only a few years ago, she had the option to compete against the boys and earn a chance to qualify for the Colorado High School Activities Association's boys state tournament, or wrestle exclusively against female competition. Why did she opt for the latter?
"Because I wanted to be a state champion and I believed I could win in a girls' tournament, and I held my own against the boys (posting a 19-13 record)," she said.
It was an excellent decision because her high school record versus girls is an incredible 36-1. According to her father Jeff, the blond-haired, lanky grappler has a 389-66 overall record, dating back to when Nicole was six years old.
The modest Koch household, is virtually laced with medals, trophies, large championship belts, plus tournament brackets, which covers two large rooms from floor to ceiling, which were won by family members. The most impressive of all the awards, are the medals, which are hanging over a rod, like a long, over-sized wind chime. The question was never asked but how many awards were in their house? Most likely over 500?
The family records are under the watchful eye of father Jeff, as he keeps a running total of W's and L's for each of his children on a simple scale that covers almost two walls of the living room.
Jeff elaborated on his daughter's athletic prowess. "When she was in the sixth grade, she scored 35 touchdowns in one season playing football and was very good at basketball as well."
Mother Janna, who ran track in her youth, said both parents stand behind all their children and are more than proud of any and all of their achievements.
"We have traveled a lot of miles in the past ten years and the cost is extensive because we take all of the children with us and travel as a complete family. But it is all worth it," Janna said.
Nicole is quite fond of her older brother Benjamin and said: "When Benny was old enough to start wrestling, I was his practice partner for a short while before I started wrestling and I remember my brother and me just hanging out. He has been my best friend forever and we did a lot of things together." Ben's overall wrestling career record is 416-144.
Next year brings the chance for Nicole to win her fourth straight gold medal and again be crowned a Colorado State Champion.
However, in September, the Koch family will take another trip, but this time to Colorado Springs where Nicole will be given, yet another award.
The Colorado Chapter of the National Wrestling Hall of Fame will honor her with the 2021 Girls High School Wrestler of the Year award. A fitting distinction for the unique, young lady from Delta.
Ray Coca is a former three-time state wrestling champion, author, sports editor and was a national AP finalist for his coverage of high school wrestling; Also contributing to this story was historian Robert Garcia.